A big part of my motivation to run is to keep my weight in check. Since I started running a year and a half ago I have lost approximately 15 pounds. I have really tried to work on healthy eating habits in addition to running, and I feel good about my weight. But ideally I would love to weigh 125 pounds. I'm currently at 134.2 pounds, and I've stayed in the 132-137 range for a long time now. I usually wouldn't post my exact weight, but I've decided to participate
in this challenge
for the next few weeks...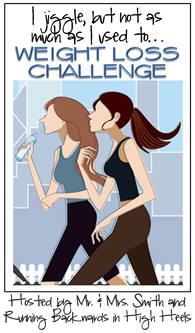 To be honest I'm not sure if 125 is really the best weight for me, but I thought I'd give it a try. Numbers are different for everyone, and it's not always the best way to determine physical health. But with that being said... I'm still going to give this weight loss thing a real "go" for the next few months. I would love to zip off to Hawaii this summer and be at my ideal weight. And I'd also love to weigh a little less, because I think it would help with my speed. So here we go. My plan is to run, run, run (adding in speed workouts), and calorie count. I'd like to loose one pound a week, and reach my goal weight by June 9!
I'm excited about the accountability of checking in each week -- I can't guarantee I will be able to follow through on this, but I'm going to give it my best try! Anyone else who's interested in linking up can go
here
.
Starting weight: 134.2
Pounds lost: 0
Pounds left to loose: 9.2